About Mina Brasserie
MINA Brasserie is a modern, bustling brasserie for breakfast, lunch and dinner, serving a selection of hearty dishes, in partnership with award-winning celebrity Chef Michael Mina.

You are welcomed by a fun and dynamic space for both private diners and larger groups to graze on delicious sharing plates from morning until night . The air-conditioned outdoor terrace is alive with lounge seating, lush green trees and the gleaming golden bar of MINA Brasserie features a collection of classics, with an emphasis on traditional aperitifs.

The Urban Chic Brunch
The chicest brunch launches on September 9, bringing you uncompromising flavours, soothing jazz and a sense of elegance that you can simply feel in the air. Join us every Saturday. Scroll to learn more.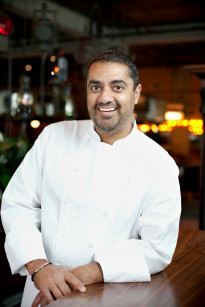 Founder of the Mina Group
Michael Mina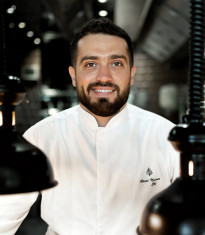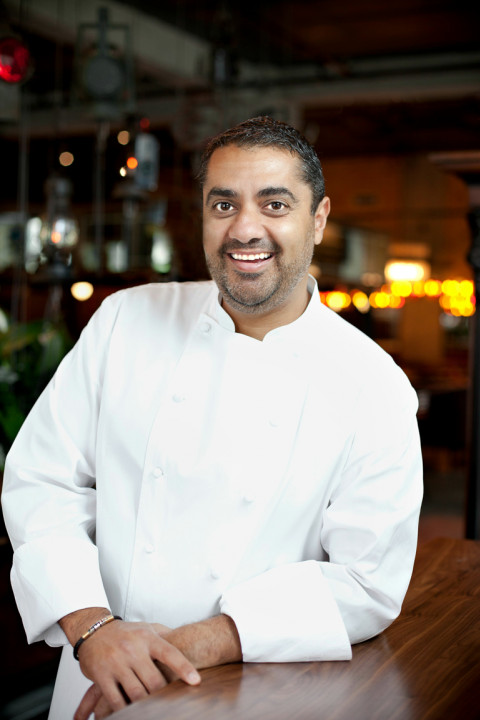 < Back
Michael Mina
Michael Mina's story is one of two decades of influence, passion and achievement. With the October 2010 opening of MICHAEL MINA, his eponymous signature restaurant in San Francisco, Michael is at the helm at the same location (formerly AQUA) and city where he first established his culinary reputation 20 years ago.

With accolades including James Beard Foundation "Who's Who of Food & Beverage" inductee in 2013, Bon Appétit Chef of the Year 2005, San Francisco Magazine Chef of the Year 2005, as well as the International Food and Beverage Forum's Restaurateur of the Year 2005, Michael continues to dazzle the culinary world with bold dining concepts that have contributed to San Francisco's reputation as a world-class epicurean destination and made him an integral part of the dining scene across the country.

Michael's culinary and business vision led to the founding of Mina Group, with partner Andre Agassi in 2002. Under the auspices of Mina Group, he has opened almost 30 operations including FIREBIRD DINER, MICHAEL MINA, CLOCK BAR, RN74, BOURBON STEAK, ARCADIA, STONEHILL TAVERN, STRIPSTEAK, WIT & WISDOM, PUB 1842, THE HANDLE BAR, MICHAEL MINA 74, PABU, THE RAMEN BAR, BOURBON PUB, LOCALE MARKET and BARDOT BRASSERIE.
< Back
Chef Rami
Born and raised in Beirut, Rami Nasser was destined to be part of the Four Seasons family. Having earned certifications, training and awards from reputable international institutions, he joined the Four Seasons Hotel, Beirut, in 2010 as Demi Chef de Partie- a title he held for two years, after which he was hired as the Consulting Chef to bring a leading culinary brand to Lebanon.

The young chef was adamant to refine his cooking skills not only in Lebanese cuisine, but also international food that require gastronomy and acute techniques for the perfect plating and contemporary nuance by gaining experience wherever possible. His next move was to Dubai at one of the city's leading Latin American restaurants, further adding to his diversity.

Self admittedly one of his most formative experiences, Rami held the title of Junior Sous Chef and managed the cold station, where he developed new skills for cutting fish, ceviche and contemporary Peruvian cuisine.

Taking all the skills he honed Rami joined the Four Seasons Beirut family once again in 2015 as Sous Chef where he worked for nearly 4 years, and with various title promotions under his belt. In addition to handling Arabesque, a Mediterranean restaurant, Rami also looked after all other sections in all the outlets at the property.

A lover of new challenges and looking to enhance his culinary knowledge, Rami made his way back to Dubai to be part of the burgeoning F&B scene. In August 2018, he joined Four Seasons Hotel Dubai DIFC as Sous Chef.

Today, he is Chef de Cuisine at MINA Brasserie, Four Seasons Hotel Dubai DIFC. With Chef Nicola Rossi, Executive Sous Chef, overseeing the whole property, guests can look forward to exciting new dishes and seafood creations with a French twist by the duo.

A young and dynamic chef, with extensive experience and commitment to modern gastronomy done with precision and panache, Rami Nasser is sure to dazzle guests with his refined creations and experimental cooking, giving MINA Brasserie's loyal customers a new encounter with familiar flavours they already know and love. }
Founder of the Mina Group
Michael Mina